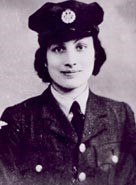 Over the last two weeks the whole school has joined in with a history project all about Noor Inayat Khan. Noor was born on 1 January 1914, the granddaughter of an Indian Sultan. She was brought up as a strict Sufi Muslim and lived initially in Russia then later moved to Paris. Noor was a bright young woman. She played five instruments, was an accomplished artist, wrote children's stories which were published and read on the radio, and spoke Russian, French and English fluently. When the Nazis invaded Paris, Noor fled to England with her mother and siblings. Against all her convictions she decided to help the British fight the Nazis. She believed in personal human rights and although she disagreed with the British ownership of India, she felt that the Nazis were the greater threat. Noor trained as a radio wireless operator and as she also spoke perfect French she was chosen to join the Special Operations Executive (SOE) as a spy.
She was sent to Paris to send back information to help with the war effort. Due to her religious beliefs Noor refused to take the gun assigned to her. Noor's life expectancy at this point was only six weeks. She quickly became the only operator sending messages as her colleagues were arrested around her. She was eventually betrayed and caught by the Gestapo and sent to a concentration camp, where she later died. Noor is now known as 'The Princess Spy'.
As part of this whole school history project all of our children and staff were invited to dress up in 1940's style. We were very impressed by the effort everyone made!. The day celebrated the end of World War 2. The children were all 'evacuated' onto the playground with their rations of a sandwich and a biscuit. Children listened to some music whilst eating their rations and celebrated the end of the war after listening to Winston Churchill's victory speech.